Awaiting ANVISA approval for commercialization in Brazil.
EAGLE X VG
It is an equipment that offers several options for its different clinical requirements. Surgical applications require technology that offers equally effective ablation and coagulation options. 810nm, 940nm, 980nm, 1210nm and 1470nm wavelength options with CW mode, single pulse and pulsed mode, so you can choose a laser that best suits your needs.
According to new statistics, medical diode laser systems in recent years are maintaining a high-speed growth.
The EAGLE X VG is the most stable system we produce, with advanced and proven technique, high quality and good performance, many doctors appreciate the cheap price and good effects. Compared to the traditional treatment, we gave it the nickname of a new "laser scalpel", being the least invasive, with less pain and low hemorrhage.
With different types of accessories such as flexible fiber, hand-held accessories with various shapes and lengths, micro-endoscope etc., the system is versatile to expand and develop many clinical applications. Now we have been involved in dentistry, endovenous laser treatment (EVLT), ENT, PLDD, liposuction, deep tissue therapy, veterinary and so on.
HIGHLIGHTS
360⁰ degree scanning scope, easy to perform
Non-ablative, stimulating pain-free procedure in vaginal remodeling of collagen
Fast and safe procedure to return to normal activities after treatment
Efficient and long-lasting results
No special pre-operative preparation or post-operative precautions are required.
Applications
Gynecology
Dental
Vet
Intravenous
Liposuction
Deep tissue therapies
Podiatry
Wrinkle Removal
Percutaneous laser disc decompression

Every woman throughout her life will have many questions about how to better manage her health. Each stage in a woman's life brings with her specific issues, including decisions about routine care, birth control, fertility, pregnancy, and menopause.
The EAGLE X VG laser provides the restoration and transformation of the anatomy and anatomical functionality of the vagina in order to obtain a more desirable experience during the sexual life.
During the procedure, the diameter of the vaginal canal can be improved according to the patient's need.
The vagina can lose collagen or loss of elasticity due to childbirth, aging. We call it Vaginal Relaxation Syndrome (VRS), it is a physical and psychological problem for women and, often, their partners. These changes can be reduced by the use of a special laser that is calibrated to work in the vaginal tissues. By delivering the right amount of laser energy, the collagen in the vaginal tissues is increased as well as your blood flow. This creates a greater feeling that the vaginal walls are contracted and more elastic, as well as an increase in vaginal lubrication and anatomical functionality.
At the same time, the laser has become a popular instrument in laparoscopy, especially in the area of ​​infertility. Other areas such as Vagina rejuvenation and treatment of sexually transmitted injuries have renewed interest in lasers in the field of gynecology. Today, the tendency to perform ambulatory procedures and minimally invasive treatments leads to the development of very valuable applications in outpatient hysteroscopy using standard diagnostic instruments to resolve minor or more complicated conditions in the clinic with the help of high-end optical fibers.
Using standard diagnostic hysteroscopes and specially designed fibers, you can vaporize in contact polyps and fibroids. The energy of the laser does not contract the muscle tissues of the coating, which results in a procedure performed with minimal pain and requires only minimal local anesthesia. Treatment is done using continuous flow which provides a clean environment. Laser energy allows precise control of tissue vaporization without bleeding and immediately visible results.
Colposcopy Applications:
HPV Injuries
Mucosal cysts
Cervical intraepithelial neoplasia
Pathologies of Fornix and dome
Ectopic lesions
Benign Erythroplasty
Laparoscopic Laser Treatment
Adhesions
Endometriosis
Fallopian tube microsurgery
Ectopic pregnancy
Dysfunctional uterine bleeding
Resection of the uterine septum
Ablation of the uterosacral ligaments
Ovary perforation (PCOS)
Hysterectomy
Lipolaser is recognized as an effective and non-surgical solution for fat removal and body remodeling. The appeal stands out in the ability of the procedure to treat localized fat deposits and the correct asymmetries of the body with apparent reduced risk compared to traditional liposuction. The energy emitted by the laser uses volumetric heating to destroy fat cells, contract the skin and stimulate collagen. After a long-time clinical comparison, it has been found that the 980 nm diode laser is consistently successful in inducing the necessary heat-to-skin and heat-to-skin interactions required for optimum results since 2012.
Now the 1210nm wavelength has absorption affinity for lipid rich tissues and has been shown to stimulate adipocytes and mesenchymal cells of the subcutaneous tissue with a new concept: Selective Phototransmitter (SPS). The application in liposuction of this wavelength is determined by the preservation of the integrity of the adipocytes, allowing the use of these materials for fat grafting in Liposculpture, Breast Reconstruction or as a filling in Face Rejuvenation, proved that this technique is less traumatic.
Although laser lipolysis is not intended to replace traditional liposuction, it offers patients a procedure that produces similar benefits with fewer complications and faster recovery.
Eagle x VG has several accessories for each type of treatment.
PM3 therapy Handpiece
Tissue Weldin Handpiece
ENT Handpiece
Deltal Handpiece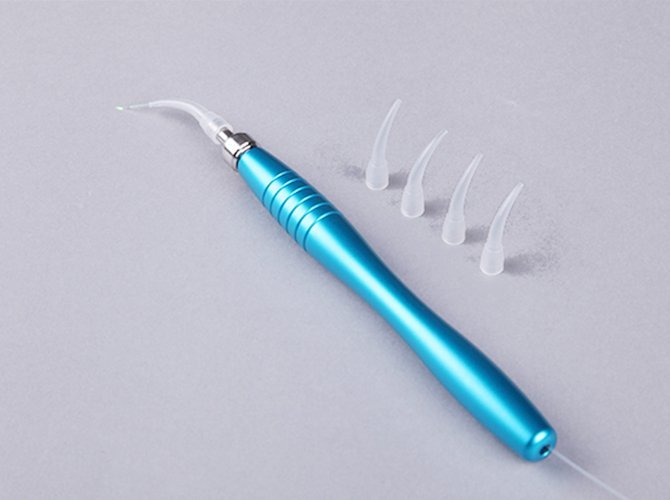 Lipolysis Handpiece
Focus Handpiece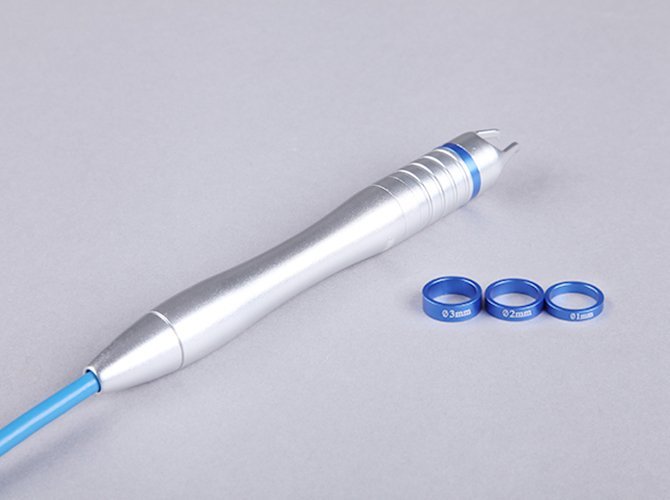 Laser Type
GaAlAs Diode Laser
Model
Eagle x VG
Wave Width
810nm
1210nm
532nm
1064nm
980 +1470nm
940nm
980nm
1470nm
Energy Max.
30W /60W
15W
8W
30W
45W (30W+15W)
Operations modes
CW, Single or repeated pulse.
Pulse Duration
10μs-3s
Repeat Rate
0.2Hz-50KHz
Transmission System
Fiber de 200um ,400um e 600um com  conector SMA
Master beam
Red Laser Diode 635nm, power <5mW
Control Module
True color Touch Screen
Voltage
110/220 VAC, 5A , 50/60 Hz
Dimensions
400(W)*385(L)*200(H) mm
Weight
13Kg
Security
CE0197
Specifications subject to change without notice.
Would you like more information?
Fill in your details that one of our consultants will contact you soon.