Awaiting ANVISA approval for commercialization in Brazil.
FENIX TWO – FRACTIONAL CO2
The Fractional Fenix Two CO2 laser has a highly stable and fine laser beam consisting of thin, precise MTZ (microthermal treatment zones) that reaches the deeper layers of the skin causing a regeneration in collagen, one of the structures responsible for rejuvenation and vigor of the skin. The higher the energy the greater the depth of these micro beams difficult to reach by other methods.
HIGHLIGHTS
Stable and quality laser beam
Quick Scan
More precise treatment with 0.1mm unit adjustment
Available CO2 mode
Default multishape & scanning
Graphic interface
Applications
Surgical scar – hypertrophic and keloid
Rejuvenation
Acne scar
Perioral and periorbital wrinkles
Fine wrinkles
Flaccidity
Improves texture and skin tone
Dilated pores
White and red streaks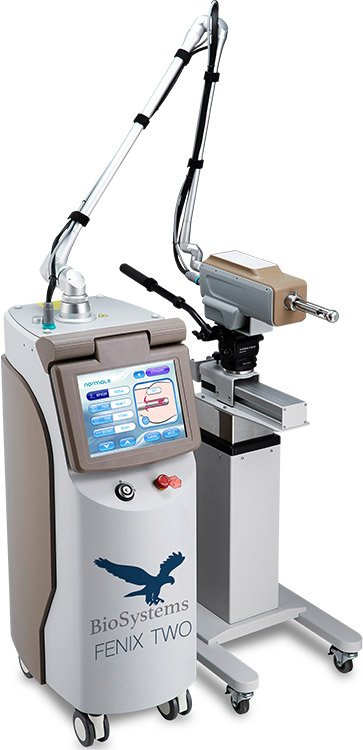 VAGINAL CO2 SCANNER
Fully automatic and rotating scanner for vaginal treatment that allows the patient a safe and pain-free treatment not needing to move away from their normal activities.
Fenix two vaginal scanner provides thermal energy within the vaginal walls by stimulating the collagen and elastin fibers on the various layers of the vaginal tissue.
HIGHLIGHTS
LCD screen
fully rotating system 90⁰ degrees and 360⁰ degrees
automatic vaginal scanner system
4 types of shape
8 types of scanning
Thermal effect
Minimally invasive
Practically painless
Fast and effective treatment
Immediate result
Applications
Natural age
Post childbirth
Menopause
Vaginal rejuvenation and sagging
Urinary incontinence and vaginal inflammation
Vaginal wall contraction
Improvement in dyspaneuria
Specificaton
| | |
| --- | --- |
| Laser class | IV |
| Laser type | CO2 |
| Treatment Area | Max 20 X 20[mm] |
| Wave Length | 10.6 µm |
| application device | Articulated Arm |
| Pulse Length | 350 400 µs |
| Spot size | Min(1mm x 1mm) max(20mm x 20mm) |
| Beam size | 50 700 µm |
| Rep rate | Degree ( up to 10 step ) |
| Coolant | Water |
| disposable tips | Not necessary |
| Max. power | 160mJ (scanner) |
| Voltage | 220V, 5A, 50/60Hz |
| Weight | 45kg |
| Dimensions | 44(L)x43(W)x112.8(H)cm |
Would you like more information?
Fill in your details that one of our consultants will contact you soon.